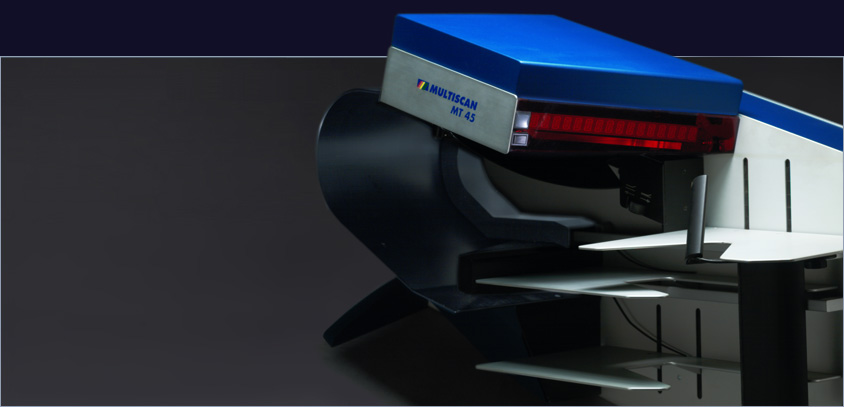 MT45 Automatic Pages Reader
MT45 AUTOMATIC PAGE READER
MULTISCAN MT45 is the state-of the-art page reader for high-speed multiple barcoded data capture.
MULTISCAN MT45 was designed to handle a wide range of applications at speeds of up to 150 pages per minute.
MULTISCAN MT45 is equipped with a powerful laser scanner which allows the accurate reading of up to 60 barcodes per page and up to 62 characters per code. Reads the following symbologies: Code 128, Code 39, UPC/EAN, Codabar, I 2of5.
MULTISCAN MT45 optionally reads the following 2D barcodes: PDF 417, DataMatrix, QR Code, MaxiCode, Aztec, VeriCode and POSTNET.
MULTISCAN MT45 can be programmed by the user making it a highly versatile machine.
Technical
Speed SelectionThe operator can select the most suitable speed for each application from the keypad at any moment.
Automatic FeedingWith adjustable document separation, automatic document feeding, miss out of paper, overlap, double feeding and paper jam detection.
Automatic DiscardDefective documents, either damaged, illegible or strange are automatically sent to a discard bin.
Multiple ReadingIt can read up to 60 codes in different lines on the same document.
DisplayThe operator can select the most suitable speed for each application, at any moment.
High Data Capture CapacityIt reads up to 62 characters per line in any of the following codes: Code128, I 2/5, Code 39, Codabar, Code 93(Optional). It can also read UPC and EAN.
Custom-BuiltDownloadable firmware allows on site changes and upgrades.
CapacityInput tray: 550 docs. (0.1 mm thickness paper) Output trays: 400 docs. (accepted), 70 docs. (rejected)
Maximum speedIt reads up to 60 codes/page
Host communicationType: RS232
Speed: 1200 bps up to 38400 bps
Supply voltage110/220v , 50/60Hz
Barcode
Readable symbologies: Code 39, Code 128, I2/5, Codabar, UPC/EAN (standard symbologies)
Readable digits: 62 chars./ code
Maximum code length: 127 mm (5")
Minimum code height: 12 mm (1/2")
Maximum code density: 17 mils
Dimensions
Height: 435 mm (17")
Width: 715 mm (28")
Depth: 390 mm (15.5")
Weight: 35 Kg (77 lbs)
Footprint: 720 mm (28.3") [width] x 350 mm (13.8") [depth].
Documents Size
A4(Europe), Letter(U.S.A.) and Legal
Minimum size: 63 mm (2.5") x 89 mm (3.5")
Maximum size: 228 mm (9") x 304 mm (12")
Paper thickness: 0.08 up to 0.25 mm (+stuck labels)