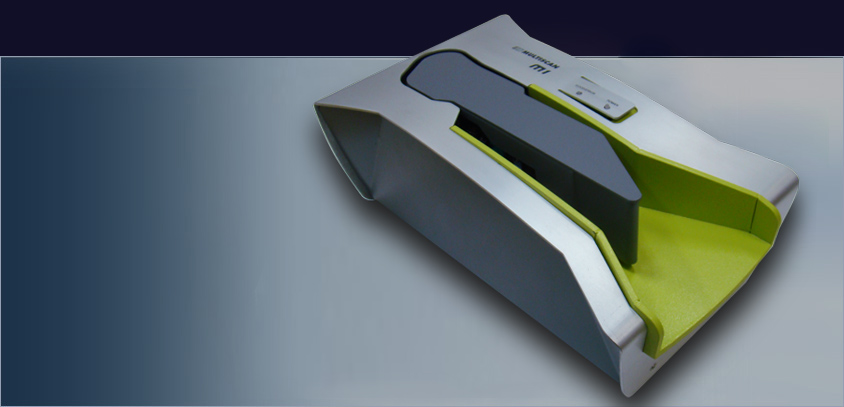 MINI 1 the small machine for ticket's reading
NEW MODEL *
MULTISCAN MINI 1 reads barcoded documents with total accuracy.
MULTISCAN MINI 1 works stand alone.
MULTISCAN MINI 1 is compact, portable, silent, easy to install, operate and maintain and it can process different types of documents.
MULTISCAN MINI 1 is a reliable machine due to its sturdy construction and excellent components.
Technical
Reading speed Up to 120 documents per minute.
Autonomy The unit works as a smart peripheral, it does not need a PC for operation or configuration. Data can be transmitted to any host through an RS232C in stream.
High Data Capture Capacity It reads any of the following codes: All UPC / EAN / JAN, Code39, Code128, I2of5 and Codabar/NW7
Capacity Input tray capacity: 40 docs. (0.1 mm paper thickness)
Output tray capacity: 40 documents
Host communication Type: RS232C
Supply voltage 110/220v,50/60Hz
Barcode
Symbologies
1D
Readable symbologies: All UPC / EAN / JAN, Code39, Code128, I2of5 and Codabar/NW7
Location: in horizontal position, from 3 mm to 22 mm measured from the bottom of the paper.
Minimum code height: 0.2" (5 mm)
Maximum code density: 10 mils.
Dimensions
Height: 7.3" (185mm)
Width: 4.5" (116mm)
Depth: 11.8" (300mm)
Weight: 1500 gr. (without the adapter)
Documents Size
Length from 2.8"(72 mm) to 7.5" (190 mm)
Height from 2.3"(58 mm) to 4.7"(120 mm)
Paper Thickness: 60 up to 120 gr/m2