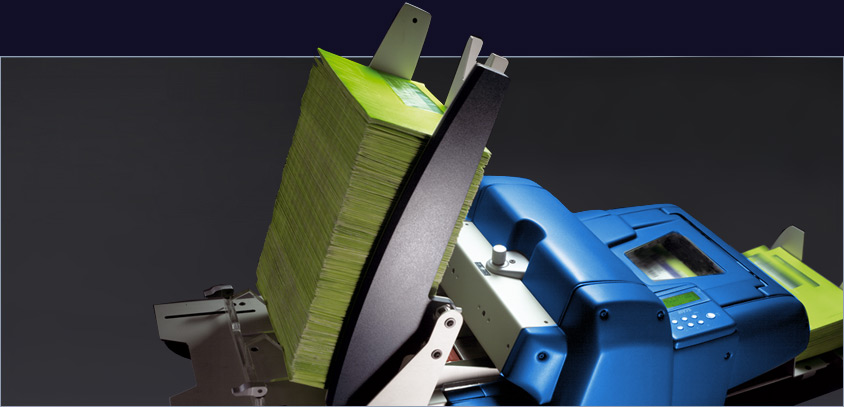 MV75z Automatic Envelope Reader
MV75z Automatic Envelope Reader
MULTISCAN MV75z is the state-of-the-art envelope reader for high-speed linear and 2D barcoded data capture. It can optionally read OCR
MULTISCAN MV75z has been designed to process a wide range of envelopes at a speed of up to 350 per minute.
MULTISCAN MV75z can also read the data through envelope transparent windows.
MULTISCAN MV75z can also count envelopes and arrange batches of a certain number.
MULTISCAN MV75z automatically feeds envelopes of different thicknesses within a certain batch.
Technical
Automatic feeding error detectio
It can read the following codes: Code 128, C39, UPC/EAN, Codabar, I 2/5. It can optionally read 2D bar codes (Datamatrix, PDF417, QR code), OCR and OMR.
Reading speed350 envelopes per minute for 4" or 100 mm high envelopes.
Host CommandType: RS 232 (standard).
Feeding tray capacity of up to 400 envelopes (1mm thick envelopes) or 8 Kgs.
Standard tray for read envelopes with capacity for 130 pieces for 1mm thick envelopes.
Optional:- discard module for unread or unclassified pieces.
Barcode
Readable symbologies: Code 39, Code 128, I2/5, Codabar, UPC/EAN (standard symbologies).
Readable number of codes: 6 codes/ piece
Readable digits: 62 chars./ code
Maximum code length: 4.5" (114mm)
Minimum code height: 1/ 2" (12mm)
Maximum code density: 10 mils.
Dimensions
Height: 26.4" (670 mm)
Width: 45.3" (1150 mm)
Depth: 17.3" (440 mm)
Weight: 77 lbs. (35 Kg.)
Footprint: 45.3" (1150 mm) [width] x 17.3" (440 mm) [depth].
Documents Size
Minimum size: 8.46" (215 mm) x 3.93" (100 mm)
Maximum size: 11.18" (284 mm) x 7.87" (200 mm)
Envelope thickness: 0.5 mm up to 6mm