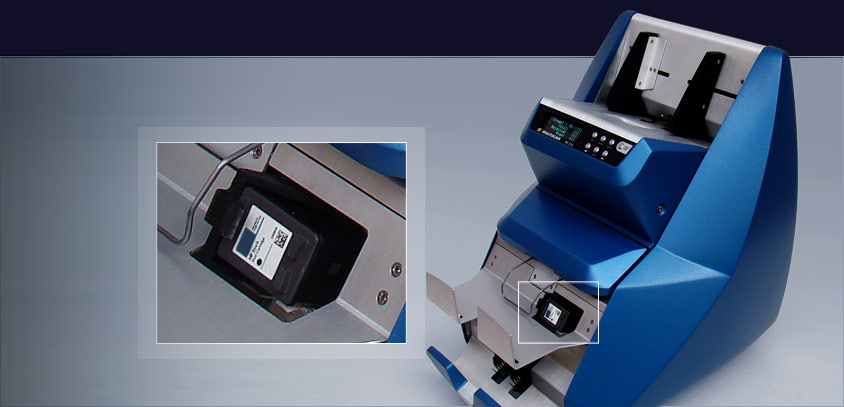 MT31R Automatic Barcoded Document Reader
NEW MODEL *
MULTISCAN READER MT31R equipped with this option can print documents sent to the lower tray both in counter and in reader mode.
On the print mode, the maximum speed for an acceptable printing is of about 400 documents per minute, the faster the printing speed the lowest the quality. If you need a higher quality, this speed can be reduced by the user
The printings are only black.
The maximum height of the message to be printed is approximately 9mm and it is defined by the cartridge's characteristics. The maximum length of the message is defined by the length of the document to print.
The duration of the cartridge depends on the amount of ink required for the message to be printed. For example, the following samples indicate the approximate duration of the cartridges.
The cartridges are of global distribution and can be purchased in any country, in a number of non-specialist retail outlets like supermarkets, bookstores, sales of computer supplies, etc..
The operator can easily change the cartridge and the time employed in performing this activity is of less than 30 seconds and completely clean.
The printed information may be defined by the user and downloaded to the reader using the standard serial communication port.
Automatic stop with full stacker and automatic restart when it is emptied. Documents processed are neatly stacked in the same order they are fed. Great productivity increase compared to previous models.
MULTISCAN MT31R reads large volumes of barcoded documents at high speed and with total accuracy using laser technology. MULTISCAN MT31 R works stand alone.
MULTISCAN MT31R is compact, portable, silent, easy to install, operate and maintain and it can process different types of documents.
MULTISCAN MT31R is a reliable machine due to its sturdy construction and excellent components.
Nowadays, there are thousands of Multiscan machines working with different applications in more than 60 countries all around the world.
Barcode
Symbologies
1D
2D
Readable symbologies: Code 39, Code 128, I 2/5, Codabar, UPC/EAN (standard symbologies), C93 (optional)
Readable characters: 62 chars./code
Maximum code length: 4.5" (114 mm)
Minimum code height: 1/2" (12 mm)
Maximum code density: 10 mils.
Dimensions
Height: 18.9" (480 mm)
Width: 18.5" (469 mm)
Depth: 18" (457 mm)
Weight: 41.9 lbs (19 Kg.)
Footprint: 10.2" (260 mm) [width]x 9" (230 mm) [depth].
Documents Size
Minimum size 2.25"(57 mm) x 2"(51 mm)
Maximum size 8.5" (216 mm) x 4"(101 mm)
Paper Thickness: 80 up to 140 gr/m2